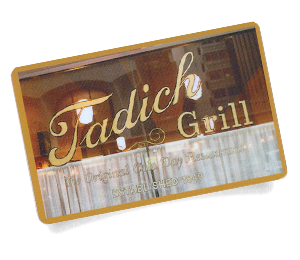 GIVE THE GIFT OF TADICH GRILL
Whether for family, friends or yourself, Tadich Grill is proud to offer select, exclusive gifts to commemorate your visit to the Original Cold Day Restaurant.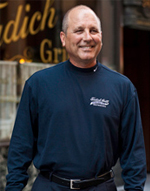 Tadich
Polo
Perfect for any sporting occasion, this high quality long sleeved cotton T-shirt in navy blue is proudly embroidered with our Tadich Grill logo. Great gift in all sizes ( S, M, L, XL, & XXL ).
$40.00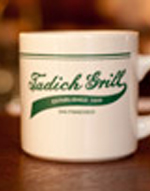 Tadich
Mug
A wonderful souvenir of the third oldest restaurant in America. Classic heavy 12oz. mug imprinted with the Tadich Grill logo.
$8.00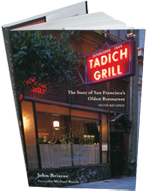 Tadich Grill Book & Recipes
Our story cannot be separated from that of its city, and so Tadich Grill includes a culinary review of San Francisco from the time the restaurant was founded. Complete with thirty of Tadich's signature recipes, Tadich Grillcaptures the history, ambiance, and flavors of this San Francisco institution, presenting a fond portrait of a remarkable culinary success story.
$25.00
Open Sundays for private parties only – call now to plan your event.
Monday-Friday 11am-9:30pm
Saturday 11:30am-9:30pm
Sunday Closed
SAN FRANCISCO
240 California Street




San Francisco, CA 94111




415-391-1849