Home-ADA-Temp
We are re-opening on Monday, April 5th!
Lunch will be served from 11a-2p and dinner from 5p-9p. With 50% indoor seating capacity, we strongly recommend making a reservation. See you soon!
MAKE A RESERVATION ON TOCK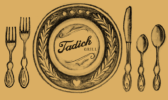 WELCOME TO TADICH GRILL
Located in the heart of San Francisco's Financial District, Tadich Grill is the oldest, continuously run restaurant in California, and third oldest in the United States. We prefer to keep it simple. For your convenience we have implemented reservations for half of our seating and the remaining half will be available for first come, first serve basis. If there is a wait, enjoy a beverage or appetizer at the bar – always fun!
We are easily accessible via BART, Cable Car, Ferry Boat, and Bus, but if you must drive, valet service after 5pm or nearby parking lots are available.
Casual to dressy casual is the norm for dress, however often times business attire is worn.
Looking for a place to host a private party?  We reserve Sundays for your occasion – just call!
Few restaurants last 50 years, let alone 162... In a city known for cutting-edge restaurants, Tadich's is old-fashioned, a nostalgic shrine to local piscine tradition.
I like this place! This is wonderful, I am ashamed we don't have something like this in New York.
No matter what religion you are, you are not truly baptized until you have lunch or dinner at Tadich Grill.
There's really no place cooler than the Tadich Grill...everything's good.
The menu of seafood, creamy casseroles and hearty stews may be the draw for many, but continuity and nostalgia is what brings most back day after day, week after week, year after year.
Tadich Grill One of the World's 10 Great Classic Restaurants Well Worth Visiting.